BARRHILL NEWS April 2018
---
Gowlands Terrace – Resurfacing
Road Works / Temporary Closure
Between 30 April and 4 May 2018 contractors will be carrying out some preparatory work on this section of public road. To ensure the safety of all parties this activity will be carried out under traffic management conditions with the road remaining open.
To allow the work to progress as efficiently and quickly as possible a temporary road closure will be required between Tuesday 8 May and Friday 18 May 2018. The closure will be in place between 07.30 and 17.30 hours each day with the road being reopened each night. The road will also be open over the weekend of 12 and 13 May 2018.
A diversion route will be clearly signed for use when the timed road closure is in operation and all these arrangements will take place under the guidance and agreement of the council roads department. SPEN thank you in advance for your cooperation in this matter and ask that you follow any instructions displayed on signage and requests of the contractors at site.
In relation to accessing Barrhill Train Station – the contractors will have a shuttle bus service from the car park next to Barrhill Memorial Hall.
Should you have any site or access enquiries relating to the work please contact ID Verde on 07738 834252.
I would take this opportunity to apologise in advance for any inconvenience caused to local residents and ensure you that all parties involved in the work will do the utmost to keep disruption to a minimum and complete the work as safely and quickly as possible.
Please direct any enquiries regarding overall project information to Colin Wylie at SP Energy Networks on 0141 614 3231 / 07808 000148 or majorprojects@spenergynetworks.com
---
Ballantrae Medical Practic
e
will be CLOSED on
Monday 7th May
&
Monday 28th May

GP appointments will be available at Barrhill on Tuesday 8th & Tuesday 29th May between 11am and noon.
---
PUBLIC INVITED TO LEARN MORE ABOUT NEW
PROPOSALS FOR STRANOCH WIND FARM
Local residents are being given the opportunity to find out more about new plans for a wind farm in Dumfries and Galloway.
EDFy was awarded planning consent for a 24 turbine wind farm on the site in 2016, but is now reviewing the project in order to make the wind farm more efficient.
Following a review of the project the company has considered various options for the site and is now proposing a reduction in the number of turbines and incorporating a range of turbine heights from 140 metres to 175 metres to blade tip.
To bring residents and local stakeholders up to date with the proposal, drop-in exhibition events will be held on:

Saturday 28th April at Barrhill Primary School (10.00am – 1.00pm)
.
Members of the wind farm development team will be present at both events to answer questions on the plans. The information provided will include visual simulations to help residents understand what the wind farm will look like from various locations.
---
Shop Easter Opening Times
| | | |
| --- | --- | --- |
| | Open | Close |
| Saturday | 7:00am | 12noon |
| Sunday | 9:00am | 12noon |
| Monday | 8:00am | 2:00pm |
---
Ballantrae Medical Practice
Easter Holiday 2018
We are CLOSED on
Friday 30th March
&
Monday 2nd April

GP session at Barrhill on
Tuesday 3rd April:
Nurse session 9.15am—10.30am.
GP session 11am—12 noon.
---
Stincher Valley Magazine
The Spring 2018 edition is now available (link on the News menu)
---
BCIC WEBSITE
BCIC now have their own website at www.bcic.org.uk
---
Ballantrae Medical Practice
New Opening Hours
With effect from 1st April 2018
Ballantrae Medical Practice opening hours are as follows;
Monday - 8.30am - 6pm
Tuesday – Friday 8.30am - 5.30pm
Dispensary – 9am - 11am & 3pm – 5pm (Monday – Friday)
Barrhill surgery opening hours remain as follows;
Monday 3.00pm – 6.00pm - Doctor
Thursday 2.30pm – 5.30pm - Doctor
Tuesday 9.15am – 1pm - Nurse
Wednesday 9.30am – 12 noon – Nurse
---
Ballantrae Medical Practice

Public Holiday's 2018/2019
The Practice will be CLOSED on these dates;
Friday 30th March
Monday 2nd April
Monday 7th May
Monday 28th May
Friday 21st September
Monday 24th September
Tuesday 25th December
Wednesday 26th December
Tuesday 1st January 2019
Wednesday 2nd January 2019
---
Altercannoch Windfarm
The appeal documents are now available online on the DPEA website below, reference number PPA-370-2066
https://www.dpea.scotland.gov.uk/CaseSearch.aspx?T=1
In addition, a hard copy of the Statement of Appeal and supporting statements has been left in the shop at Main Street Barrhill. However, please note that these are the main documents. The appendices are online and haven't been printed due to size and doubling up of information already lodged as part of original application
---
Road Works Schedule
The weekly scheduled roadworks for SW Scotland is available in Excel spreadsheet format here.
Note that I can only upload these when they are sent to me so occassionally a week goes missing.
---
Skip
The next skip will be in the village from the 4th to the 7th May.
Dates for 2018 can be found here.
Note that the skip is to be situated behind the fence not on the gravelled area in front of it.
Bins Schedule
The shedule for bin collections for the year 2017/18 is now available.
It can be found on the dates menu or by clicking here.
---
Church Services
Services are held on the third Sunday of every month in the Memorial Hall.
March's service will be in Barrhill School Hall at 3pm
on Sunday 15th April.
All are welcome.
---
New Fitness Classes in Newton Sewart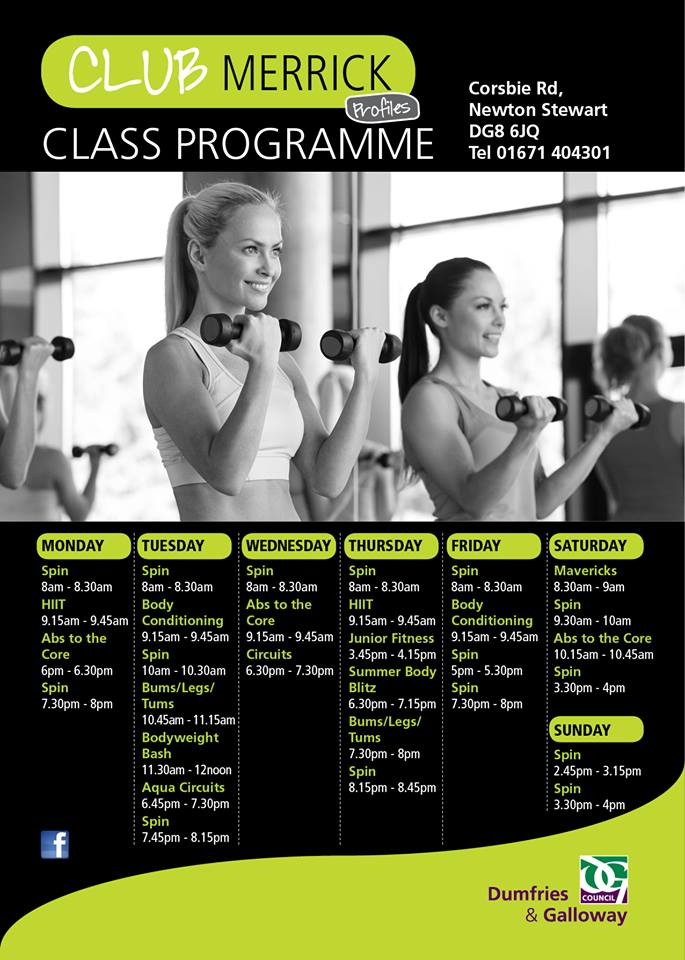 Note that the spin classes are very popular and you are advised to book in advance.
---
Barrhill Community Council
VACANCIES
The Barrhill Community Council currently has three vacancies.
Community Councils give local people a real say in matters such as local service delivery and other issues which affect daily lives.
Community Councils have a local and statutory interest in the planning process. Local Authorities are required to consult Community Councils on planning applications affecting their areas.
Liquor licensing and some other licensing matters may also be of keen interest to Community Councils and are areas on which Community Councils views might usefully be sought.
Anyone resident within the area of Barrhill Community Council who is aged 18 years or over and who is interested in becoming a Community Councillor should contact the Secretary as detailed below before 4th October 2017.
Celia Strain
Secretary
Barrhill Community Council
Tel No: 821333
Email to: celia@celiastrain.plus.com
or in writing to: The Oaks, Main Street, Barrhill

---
Barrhill Community Interest Company
DIRECTOR VACANCIES
The Barrhill Community Interest Company currently has two vacancies.
If interested in one of these vacancies Email to: bcicbarrhill@yahoo.co.uk
---
Barrhill Badminton
Tuesdays 6pm to 8pm
The current sessions in the School Hall
finish on December 5th

The restart of sessions will be when the
Memorial Hall reopens.

All ages and abilities welcome.
Racquets available.
Come and enjoy a social evening with the benefit of some exercise disguised as fun.

No fees for residents of Barrhill and adjacent villages.
---
Small Grants 2018 Details
Dates and details for Small Grants applications for January, February & March 2018 is now available.
---
Mobile Library
The timetable for 2018 is now available through the dates page.
---
DOG FOULING AND USE OF POOP BAGS
The Community Council would like to remind dog owners that "poop" bags are available free of charge from the village shop.
Please be considerate to other members of the community and clean up after your dogs misdeeds.
The use of "poop" bags has been successful in helping to keep the village clean but some people are still being inconsiderate in having very kindly bagged their dogs poop they have then just hung the bag in a nearby bush or tree. Being a generous soul I would like to think that they were put there with the intention of collecting them on the return journey of their walk rather than a deliberate act. Please dispose of "poop" bags in a hygienic and environmentaly friendly way.
---
Broadband Availability
You can find out whether "Superfast Broadband" will be available to you by entering your postcode in the search box on:

http://www.digitalscotland.org/whereandwhen

There is further information on the other pages of the Digital Scotland site:
http://www.digitalscotland.org/
---
Report Road Defects
The link below is to Ayrshire Roads Alliance. On the site you can enter reports on road defects - that should keep you going until next months newsletter!

http://www.ayrshireroadsalliance.org/Home.aspx

---