BARRHILL NEWS February 2017
---
Main Street Temporary Parking Restriction
NOTICE is hereby given that under Section 14(2) of the Road Traffic Regulation Act 1984, as amended, and of all other enabling powers, use of the following road by the under noted classes of vehicle shall be restricted as stated herein -
Name of Road - A714 Main St Barrhill
Affected Length of Road - As indicated by signage
Nature of Restriction - Parking Restriction
Period of Restriction - From 08:00 hours on Monday 6th March until 18:00 hours on Wednesday 8th March 2017
Reason for Restriction - BT works
Classes of Vehicles Affected - All except vehicles engaged in works and emergency vehicles. Local access will be maintained subject to exigencies of works.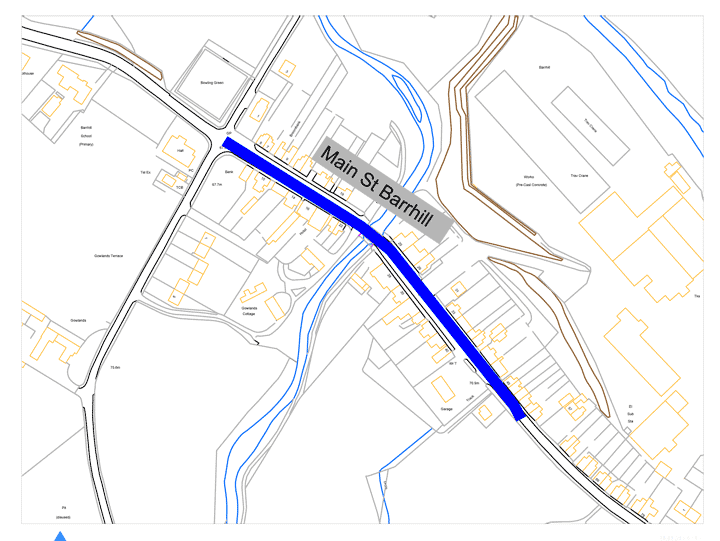 ---
SP Energy Networks Consultation
Preferred Route for Stranoch Windfarm Grid Connection
SPEN will be holding two consultaion events in order to present their proposals and obtain feedback from the local community on the routing of the overhead line from Stranoch wind farm to the existing Mark Hill substation.
The events will take place on:
Wednesday 1st March 2017 and Thursday 2nd March 2017
in the Barrhill Memorial Hall
14:00 to 10:30
---
BCIC Spring Newsletter
The Spring Newsletter is available here.
---
CommunityTree Planting
Join us on
Thursday 23rd February at 0900
for Tree Planting at Arnsheen Park
---
Garden Maintenance
The BCIC invite tenders from interested parties for either or both of the following pieces of work:

To offer gardening services to eligible Barrhill residents (grass cutting/hedge trimming) once every two weeks, from April to the end of September.
Current contract includes 9 gardens and 3 hedges.

Garden maintenance of the Community Car Park borders and walkways.

So, if you run a gardening or ground maintenance business please
get in touch with any BCIC Director for full details, or email: bcicbarrhill@yahoo.co.uk
For full poster click here.
---
359 Bus Timetable During A714 Closure
The modified timetable is available here.
---
Ballantrae Medical Practice
Notice of Disruption to Normal Opening Hours
BARRHILL Surgery
Due to Carriageway Resurfacing Works on
A714 Pinwherry to Barrhill Temporary Road Closure
Mon 30th Jan – Sun 26th Feb between the hours of 9.30am and 3.30pm.
Monday – GP Surgery 4pm – 6pm
Tuesday – Nurse Session, 9am – 12.30pm
Wednesday – open for prescription collection 9am – 12 noon
Thursday – GP Surgery 4pm – 6pm
www.ballantraemedicalpractice.co.uk
---
A714 Closure NOW FINISHED as of 17/2/17
A714 Pinwherry to Barrhill road will be closed by reason of works to be executed on or near the road.
The road will be closed from 0930 hrs on 30/1/17 until 15:30 hrs on 26/2/17, or until the works are completed whichever is earlier and the closure will be implemented only when appropriate signs are displayed.
The closure will only be in place during the hours of 0930 – 1530 Mon- Fri only.
There will be a period between 1215 and 1300 each day when vehicles will be allowed to pass. These times may be subject to delay but the road will definitely close again at 1300.
Alternative Route: Traffic will be diverted via A77, A751 and A75 and vice versa.
For a plan of where the resurfacing is being done click here.
---
Barrhill Bowling Club AGM
11th March 2017 at 2pm
Barrhill Memorial Hall
All members of the community
are welcome to attend

New members, even if you've never played before are very welcome
---
Barrhill Camera Club
The club has its own Facebook page (Barrhill Camera Club) and new members are more than welcome.
Meetings are held on an Ad Hoc basis and members are currently working on submissions for this year's exhibition and sale.

---
BARRHILL WEE WHIST CLUB
Barrhill Wee Whist Club starts on
Tuesday 14th March and is every two weeks untill May
Starts 7.30 in Barrhill Memorial Hall
A friendly welcome awaits and everyone welcome
Tuition available if required
For more information contact Irene Mc Crae on
07340315996
---
Easter Craft Fair
+
Car Boot Sale
Barrhill Memorial Hall
SATURDAY 1st APRIL 2017
Full details in poster on Events page
---
Church Services
Services are held on the third Sunday of every month in Barrhill Memorial Hall at 3pm.
The next being Sunday 19th February.
All are welcome.
---
Mobile Library
The timetable for 2017 is now available through the dates page.
---
Small Grants 2017 Details
Dates and details for Small Grants applications for the rest of 2017 is now available.
---
DOG FOULING AND USE OF POOP BAGS
The Community Council would like to remind dog owners that "poop" bags are available free of charge from the village shop.
Please be considerate to other members of the community and clean up after your dogs misdeeds.
The use of "poop" bags has been successful in helping to keep the village clean but some people are still being inconsiderate in having very kindly bagged their dogs poop they have then just hung the bag in a nearby bush or tree. Being a generous soul I would like to think that they were put there with the intention of collecting them on the return journey of their walk rather than a deliberate act. Please dispose of "poop" bags in a hygienic and environmentaly friendly way.
---
Barrhill Playgroup
Every Fridayday 12 - 2pm
All children from Barrhill and surrounding villages welcome.
Birth to Nursery age £2.00 poer session.
See the full poster on the Events page
---
Skip
The skip will be in the village Friday 24th to Monday 27th February
Dates for 2017 can be found here.
Note that the skip is to be situated behind the fence not on the gravelled area in front of it.
Bins Schedule
The shedule for bin collections for the year 2015/16 is now available.
It can be found on the dates menu or by clicking here.
---
Link to Stinchar Valley Magazine
A link to the latest Stinchar Valley Magazine has been added to the News Menu on the website. Clicking on the News menu will show a drop down menu with the magazine link at the bottom. Clicking on this link will open the latest version of the magazine in a new window.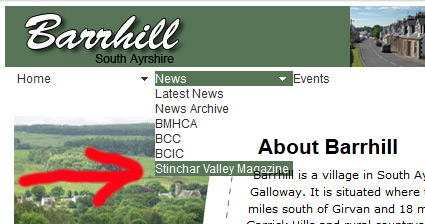 The magazine is in pdf format so you will need a pdf reader installed on you device to open the file.
---
Barrhill Badminton
in the Memorial Hall Tuesdays 6pm to 8pm.

2017 Season starts 10th January

Christmas break:
27th December and 3rd January

All ages and abilities welcome.
Racquets available.
Come and enjoy a social evening with the benefit of some exercise disguised as fun.

No fees for residents of Barrhill and adjacent villages.
---
BCIC Newsletter Winter 2016
This has been added to the site. Access through the BCIC page or use this link.
---
Broadband Availability
You can find out whether "Superfast Broadband" will be available to you by entering your postcode in the search box on:

http://www.digitalscotland.org/whereandwhen

There is further information on the other pages of the Digital Scotland site:
http://www.digitalscotland.org/
---
Report Road Defects
The link below is to Ayrshire Roads Alliance. On the site you can enter reports on road defects - that should keep you going until next months newsletter!

http://www.ayrshireroadsalliance.org/Home.aspx

---