BARRHILL NEWS February 2018
---
A714 Girvan – Barrhill road Temporary Road Closure
15/1/18 to 2/2/18 Overrunning into following week

A714 Pinwherry to Barrhill road – Temporary Road closure will only be in place:
Mon - Fri between 09:30hrs - 12:00hrs and 13:00 hrs - 15:30hrs
Phase 2 Pinmacher to Pinminnoch (see plan)
Required to facilitate resurfacing works, for more information contact Tommy Thorburn Tel. 01563 576445.
---
Participatory Budgeting Event
Now's your chance to secure up to £5,000 to help make a difference in your local community…and decide on which other community projects should be funded across Girvan and South Carrick Villages Locality!
For further details click here
---
New Fitness Classes in Newton Sewart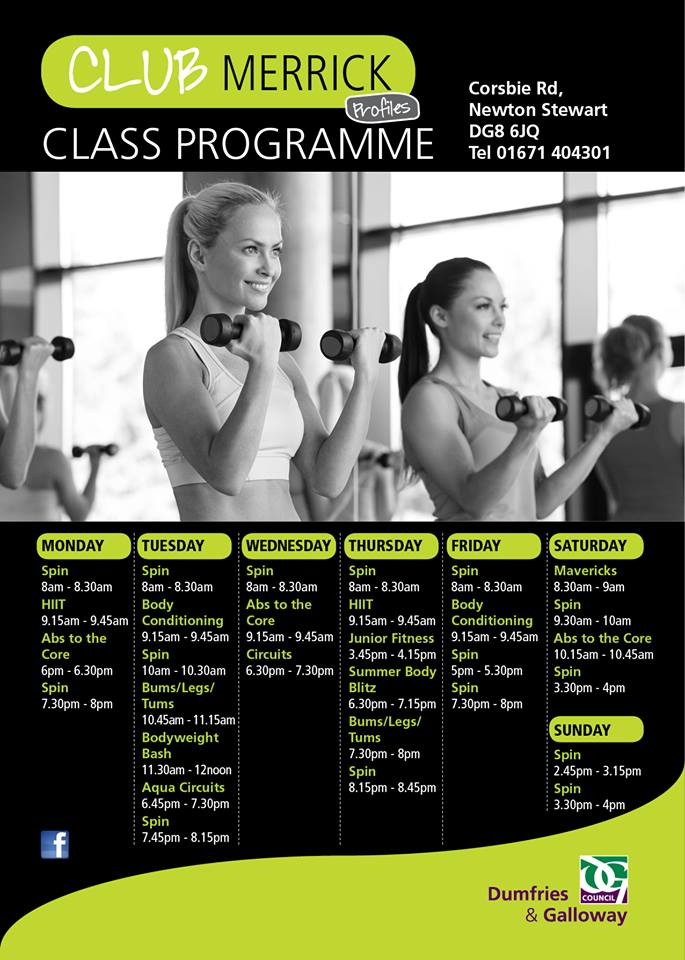 Note that the spin classes are very popular and you are advised to book in advance.
---
Barrhill Community Council
VACANCIES
The Barrhill Community Council currently has three vacancies.
Community Councils give local people a real say in matters such as local service delivery and other issues which affect daily lives.
Community Councils have a local and statutory interest in the planning process. Local Authorities are required to consult Community Councils on planning applications affecting their areas.
Liquor licensing and some other licensing matters may also be of keen interest to Community Councils and are areas on which Community Councils views might usefully be sought.
Anyone resident within the area of Barrhill Community Council who is aged 18 years or over and who is interested in becoming a Community Councillor should contact the Secretary as detailed below before 4th October 2017.
Celia Strain
Secretary
Barrhill Community Council
Tel No: 821333
Email to: celia@celiastrain.plus.com
or in writing to: The Oaks, Main Street, Barrhill

---
Barrhill Community Interest Company
DIRECTOR VACANCIES
The Barrhill Community Interest Company currently has two vacancies.
If interested in one of these vacancies Email to: bcicbarrhill@yahoo.co.uk
---
Skip
The next skip will be in the village from the 23rd to the 26th March.
Dates for 2018 can be found here.
Note that the skip is to be situated behind the fence not on the gravelled area in front of it.
Bins Schedule
The shedule for bin collections for the year 2017/18 is now available.
It can be found on the dates menu or by clicking here.
---
New Train Timetable 2017/2018
This is now on the site.
There are no significant changes to the previous timetable.
---
Ballantrae Medical Practice
Public Holiday's 2017/2018
The Practice will be CLOSED on these dates;
Monday 25th December
Tuesday 26th December
Monday 1st January
Tuesday 2nd January
---
Barrhill Badminton
Tuesdays 6pm to 8pm
The current sessions in the School Hall
finish on December 5th

The restart of sessions will be when the
Memorial Hall reopens.

All ages and abilities welcome.
Racquets available.
Come and enjoy a social evening with the benefit of some exercise disguised as fun.

No fees for residents of Barrhill and adjacent villages.
---
Small Grants 2018 Details
Dates and details for Small Grants applications for January, February & March 2018 is now available.
---
Mobile Library
The timetable for 2018 is now available through the dates page.
---
Stinchar Valley Magazine Winter 2017
Click here
---
BCIC Autumn Newsletter
This has been added to the site. Click here to open it in a new window.
---
Church Services
Services are held on the third Sunday of every month in the Memorial Hall.
January's service will be in Barrhill School Hall at 3pm
on Sunday 18th February.
All are welcome.
---
DOG FOULING AND USE OF POOP BAGS
The Community Council would like to remind dog owners that "poop" bags are available free of charge from the village shop.
Please be considerate to other members of the community and clean up after your dogs misdeeds.
The use of "poop" bags has been successful in helping to keep the village clean but some people are still being inconsiderate in having very kindly bagged their dogs poop they have then just hung the bag in a nearby bush or tree. Being a generous soul I would like to think that they were put there with the intention of collecting them on the return journey of their walk rather than a deliberate act. Please dispose of "poop" bags in a hygienic and environmentaly friendly way.
---
Broadband Availability
You can find out whether "Superfast Broadband" will be available to you by entering your postcode in the search box on:

http://www.digitalscotland.org/whereandwhen

There is further information on the other pages of the Digital Scotland site:
http://www.digitalscotland.org/
---
Report Road Defects
The link below is to Ayrshire Roads Alliance. On the site you can enter reports on road defects - that should keep you going until next months newsletter!

http://www.ayrshireroadsalliance.org/Home.aspx

---